Inventory Control
(For People Who Really Have to Do It)
Volume II in the Useful Management Series

By Robert E. D. (Gene) Woolsey, Ph.D., F.I.D.S.
and Ruth Maurer, Ph.D.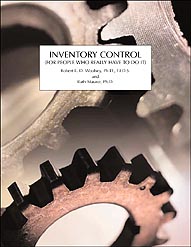 Pages: 52
E-book (PDF) Price: $12.00
Book (Print) Price: $16 (Plus Shipping & Handling)


Inventory Control (For People Who Really Have to Do It) is a cookbook of quick and dirty methods for solving problems in real-world inventory control.


Written by Robert E. D. Woolsey, Ph.D., F.I.D.S. and Ruth Maurer, Ph.D., this book is for bottom- to mid-level managers, third-world countries, and small businesses where computers are either too expensive or labor is too cheap or too uneducated to justify anything but the use of common sense. It is also aimed at unpretentious community colleges and business schools that want to teach people something they can use!


The book begins by taking on the most used (wrongly) method in the inventory world — the economic order quantity. The authors point out that this method (like any other) depends on data you can trust, such as delivery dates and the real need dates seldom given to you by salespeople. The book tries to warn the unwary reader that every method carries a bag of assumptions that need to be carefully addressed before using these methods. A number of chapters on political aspects of inventory control based on the authors' experiences are included.

Click here to read the preface of Inventory Control (For People Who Really Have to Do It).
Author Biographies:

Gene Woolsey is the director of the Management Science/Operations Research Program at the Colorado School of Mines. He is past elected International President of the Institute of Management Sciences. He is the first recipient of the Harold Larnder Prize for Distinguished International Achievement in Operations Research. He was formerly the editor of the Production and Inventory Management Journal (72,000 circulation in 125 countries). He also holds teaching positions at seven other universities in four countries. For the past decade, he has worked Pro Bono for any government agency of any government of sufficiently conservative, capitalist form with which he politically agrees. For this work he was decorated by the government of Israel and holds the Distinguished Civilian Service Medal of the United States.


Ruth Maurer is associate professor of mathematics (Operations Research/Applied Probability) at the Colorado School of Mines. She is former mayor of the city of Golden. She was the consulting energy economist for the First Interstate Bank of Denver and was visiting professor of engineering at the United States Military Academy at West Point. For her Pro Bono consulting work for the Department of the Army, she was awarded the Outstanding Civilian Service Medal and the Commander's Medal. She led the effort to implement emergency telephone service in Jefferson County.

Table of Contents


Preface: Questions and Answers About This Book


Chapter 1. A Requiem for the EOQ

The Economic Order Quantity Model
Learning the Model and the First Experience of Reality
Killing the EOQ Vampire, the Silver Stake Method
The Cost of the Item
The Holding Rate
The Setup or Ordering Cost
The Annual Demand or Annual Requirement
References

Chapter 2. Lot Sizing Methods of Inventory Control

What This Chapter Is For
The Economic Order Quantity Method
Periodic Order Quantity
Part-Period Balancing
Dynamic Programming
The Method of Silver and Meal
A Better Silver and Meal Method
Silver and Meal Quick and Dirty Fill-In-The Blank Inventory Form
First Silver and Meal Nomogram Example
Second Silver and Meal Nomogram Example
Silver and Meal Nomograph Example
Greening's Nomograph for Forecasted Demands
When Do I Use Which Method?
References

Chapter 3. The Woolsey Never-Fail Spare Parts Reduction Method

If You're Using the EOQ, At Least Do it Right!
Setting the Scene
With the Computer Jocks and What Happened There
The Long Awaited Recalculation and What Happened Then
Icing on the Cake — Recalculating the Order Point
Final Warnings and Suggestions
Flowchart of the Woolsey Never-Fail Spare Parts Reduction Method
Inventory Example Problems
The Learning Organization

Chapter 4. El Pistolero del Inventorio

La Problema y Zopilote
Venustusiano Oso
Una Pregunta por Las Gerentes
El Neuvo Metodo
El Rey
Mas Preguntas de Importancia
Reference

Ordering:
If you would like to order print copies of this book or order more than one title as a PDF file go to the e-books shopping cart form.


If you would like to order a PDF of Inventory Control (For People Who Really Have to Do It) only, click here for credit card payments or here for electronic checking.


PLEASE NOTE: Ordering single PDFs is more expediant than ordering mutiple titles at once. Single PDF orders are automated. A username and password for download access will be automatically e-mailed to you as soon as your payment is approved. Orders of multiple e-books are handled partially by hand and can take up to 12 business hours to process.


If you would like to order mutiple e-book titles, yet still benefit from our automated processing simply place orders, and return to the e-books order form to order other titles.


Click here to learn about our other E-book titles.


Web Site © Copyright 2002 by Lionheart Publishing, Inc.
All rights reserved.


Lionheart Publishing, Inc.
506 Roswell Street, Suite220, Marietta, GA 30060, USA
Phone: 770-431-0867 | Fax: 770-432-6969
E-mail: lpi@lionhrtpub.com
Web: www.lionheartpub.com